We are a family run firm and have had over 20 years experience in the HGV /LGV and PCV driver training field.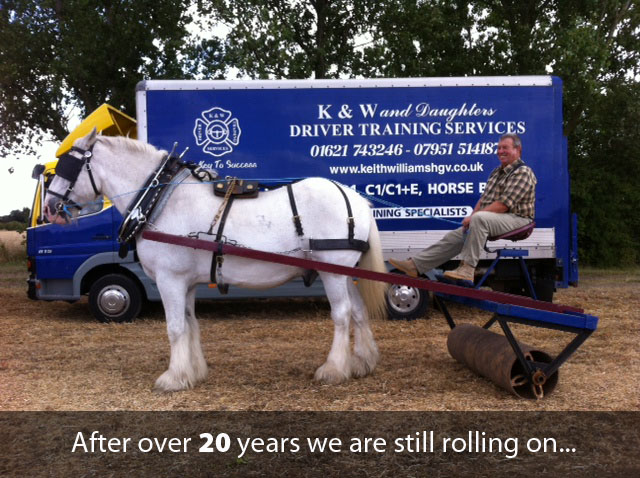 We have many testimonials to compliment us on the superb training they receive. We take great pride in our professional training methods and understand how nerve racking it can be.
Our pass rate is way above average and we will train you to a very high standard and are especially good with the nervous trainee.
This could be the start of a promising career in HGV / LGV or PCV driving or maybe get that larger horsebox you bought and can't drive on the road. Try us, we won't let you down. We will give you the time you need, because we know how important your licence is. We are equally successful with men and ladies. Our vehicles are clean, tidy and well maintained.
Did you know?
B + E: As a full licence holder who passed your test after 1997, it is illegal to pull a trailer, boat or caravan etc over 750 KGS and you could get your towing vehicle crushed, a fine and 3 points on your licence.
Don't let this happen to you, click here to find how to train.
Available now to train in are the recent additions to our fleet. A 17 seat mini bus (D1 and with the trailer, D1+E), and covers anyone to drive over 18 years old.
We also now have a 7.5 ton lorry (C1) for anyone who wishes to do an ambulance/paramedic course (very high first time pass rate). Then the C1+E (7.5 + trailer) which is becoming more popular. The trailer we have covers this class.
Prices on request the following:
B+E can be booked immediately as long as you have a full car licence
C1 medium goods 7.5 ton needs all paperwork sent off inc a D4 form completed
C1+E medium goods and trailer up to 12 ton
C large goods 10 ton to 32 ton rigid as above
C+E artic can only get a provisional once rigid is passed
D1 mini bus
All above courses run from 3 days to 5 days and are 1 to 1 training only.
How to check whether you have the correct class that you applied for:
Go onto the Gov.uk website and type in Licence Check
Add your National insurance number
Add your Driving licence number
Enter your postcode
This will tell you the provisional classes you have.